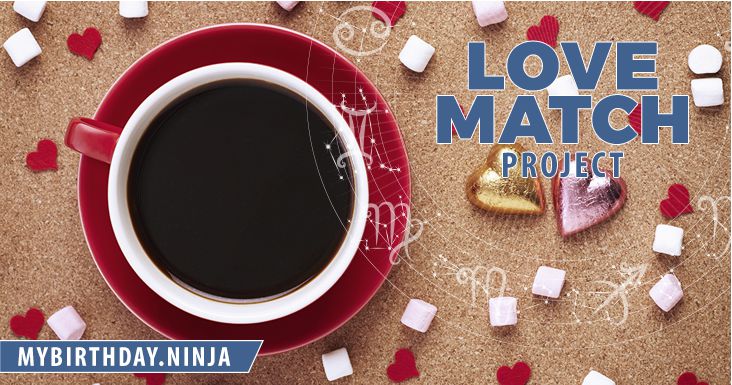 Love Match Project
September 2, 2018
Ric Galit
4 min read
There are many Love Match websites out there. Some are silly that generates a random number base on the names of the individuals. The good ones are astrology reports that you have to buy. Aside from the birthday of two individuals, it requires more detail like the place and exact time of birth. I was looking for something casual but with structure and meaning. A precursor report with minimal input that visitors can get for free.
It seems like astrology is the way to go. There are many compatibility reports base on the zodiac or Sun signs. While doing this project, I discovered that the analysis should not be Sun signs compatibility only. Using a combination of Sun signs and planets is better.
To make a long story short, I stumbled upon the concepts of astrodyne, harmodyne, and discordyne from Course XVI Stellar Healing by C. C. Zain. The book is part of a course in Astrology by The Brotherhood of Light. Elbert Benjamine started writing the lessons in 1910 under the pen name C. C. Zain. During that time the computations were all made by hand. It was a shock to learn that such a procedure existed on an era that does not use a calculator. The method uses a look-up table to determine the values. You have to compute everything manually. One natal chart alone took five hours to complete. A couple's synastry chart literary took half a day to calculate on that era.
The massive computational task is where the Love Match project becomes useful. In mere seconds you can get the score for a love match. I tested the algorithm by pairing birthdays from January 1, 1901, up to December 31, 2017. A constraint of 30 years was used to limit the age gap. The pairings generated a total of 408,245,769 birthday combinations. See the distribution graph below.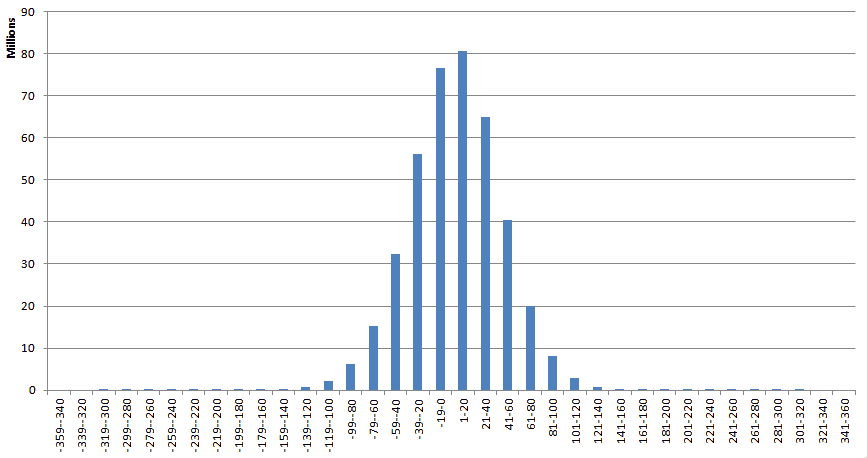 Here are some interesting facts about the statistics. The lowest score is -341 for a pair born on January 11, 1910, and July 8, 1931. On the positive side, the highest score is +358 for a couple born on March 3, 1965, and January 7, 1994. Notice the highest score has an age gap of 29 years!
It was a fun project to create. I encourage you to try as many Love Matches as possible. Start experimenting with your day of birth and find out your most compatible birthday. If you are a teaser, try sending a Love Match ninja page to someone who has a crush with somebody.
Bibliography
Banzhaf, Hajo, and Anna Haebler. Key Words for Astrology. Kindle ed., 1994.
Doane, Doris Chase. How to Read Cosmodynes. American Federation of Astrologers, 1974. Print.
Eddington, Diane. Star Synastry: The Power of the Astrological Conjunction. Kindle ed., 2014.
‑‑‑. Top 10 Best Synastry Aspects. Kindle ed., 2015.
‑‑‑. Star Synastry: Top 10 Worst Synastry Aspects. Kindle ed., 2017.
Edut, Tali, and Ophira Edut. Astrostyle: Star-studded Advice for Love, Life, and Looking Good. Simon & Schuster, 2003. Print.
Forrest, Steven. The Inner Sky: How to Make Wise Choices for a More Fulfilling Life. Kindle ed., 2012.
Forrest, Steven, and Jodie Forrest. Skymates: Love, Sex and Evolutionary Astrology. Vol. 1, Kindle ed., 2013.
Goodman, Linda, et. al. Linda Goodman's Relationship Signs. Bantam Books, 1999. Print.
Hall, Molly. Knack Astrology: A Complete Illustrated Guide to the Zodiac. Morris Book Publishing, 2010. Print.
J.D. Astrological Keyword System of Analyzing Character and Destiny. The Rosicrucian Fellowship, 1998. PDF file.
King, David. Amazing World of Astrology. Worldlink Books, 2003. Print.
Kumar, Vijaya. A Little Book of Astrology. New Dawn Press, 2004. Print.
Lamb, Terry. Born to be Together: Love Relationships, Astrology, and the Soul. Kindle ed., 1998.
Sargent, Lois Haines. How to Handle Your Human Relations. Kindle ed., 2014.
Stone, Ken. Delineation with Astrodynes. American Federation of Astrologers, 1972. Print.
Thompson, Alicia. The Secret Language of Birthdays, Teen Edition. Penguin Books, 2009. Print.
Walker, Sandra K. Relationship Astrology: The Art of Chart Comparison. Kindle ed., 2011.
Zain, C. C. Course XVI Stellar Healing: Astrological Predisposition, Diagnosis and Treatment of Disease. The CofL Press, 2010. PDF file.
Websites
Ephemeris Software Library reads and writes NASA's Jet Propulsion Laboratory planetary ephemeris files, and calculates positions and velocities with the full precision of the original JPL software, which is written in FORTRAN.
The Rosicrucian Fellowship publishes and sells books on Esoteric Christianity and Philosophy, Spiritual Astrology, and Bible Interpretation.
Kelli Fox is one of the world's best know astrologers. She has been sharing her unique insights and guidance since 1995.
Cafe Astrology is brimming with articles, features, and tools that will appeal to people with a casual interest in Astrology, as well as beginning through advanced students of Astrology.
Horoscope Yourself provides free interpretations to personalised horoscopes.
Astro-Seek free Astrology birth chart calculator, chart readings, reports, and interpretations.
AstroMatrix strives to provide you with the best, time-honored information when defining signs and symbols.
The Lost Horoscope X-Files provides good and short interpretation of synastry aspects.
Astrology and Numerology a unique site providing a multitude of easy to understand and very informative astrology and numerology readings and explanations.
Illume Astrology provides good interpretation on synastry aspects.
Magic Guru is a site dedicated to Magic and ESP as well as related directions of human development.
AstroWin provides free Astrology software that you can use online or install on your PC.