Relationship Reality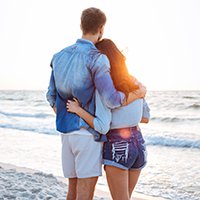 It's all about understanding each other and what you create together.
No longer two distinct individuals, as a couple you accommodate the relationship itself by both undergoing changes. The Relationship Reality that you create together is a separate entity. Finding out the reality of being more involved, as the relationship unfolds and develops over time, goes a long way towards making it happy and successful.
Get 25+ pages delivered on-screen and emailed to you.
The intensity of being together
The heart and purpose of your relationship, its soul and emotional nature. How you think and communicate as a couple, your relationship's appeal and accord, drive and sexuality. Your relationship's belief in itself is shown through commitment and staying power. Freedom and awakening displayed together as well as sensitivity and spirituality plus your ability to influence each other and develop together.
Please note
When you can include the birth times the Ascendant: Your relationship's image and identity will be included, so too the Houses sections for each of the planets. All the Planet's Sign and aspect information will be provided. When the birth times are not known a Noon time is used and the Ascendant and Houses information cannot be verified.
Ultimate Relationship Pack
16 reports in 1 package
Save time and money with this amazing offer!
Lovers Compatibility Pack
9 reports in 1 package
Save time and money with this amazing offer!
More About Love
Discover true compatibility about you and your partner. Get tips about your current relationship and how to improve it.
View all the Astrology Reports