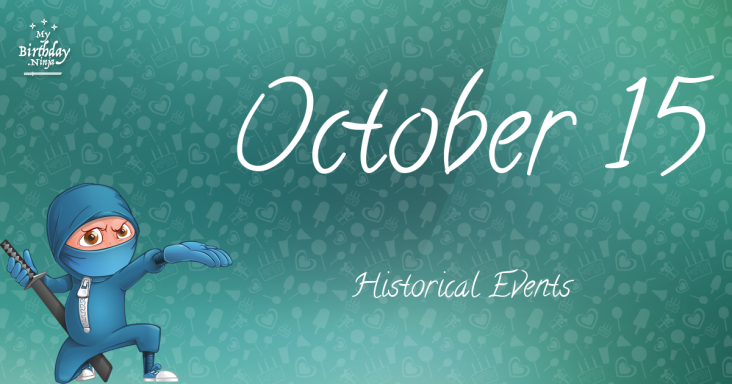 October 15 Historical Events
The following events took place on October 15. The list is arranged in chronological order.
Found 52 events. Showing 1 - 20.
1066

Edgar the Ætheling is proclaimed King of England, but is never crowned. He reigns until 10 December 1066.

1211

Battle of the Rhyndacus: The Latin emperor Henry of Flanders defeats the Nicaean emperor Theodore I Laskaris.

1529

The Siege of Vienna ends as the Austrians rout the invading Turks, turning the tide against almost a century of unchecked conquest throughout eastern and central Europe by the Ottoman Empire.

1582

Pope Gregory XIII implements the Gregorian calendar. In Italy, Poland, Portugal, and Spain, October 4 of this year is followed directly by October 15.

1764

Edward Gibbon observes a group of friars singing in the ruined Temple of Jupiter in Rome, which inspires him to begin work on The History of the Decline and Fall of the Roman Empire.

1783

The Montgolfier brothers' hot air balloon (tethered) makes the first human ascent, piloted by Jean-François Pilâtre de Rozier.

1793

Queen Marie Antoinette of France is tried and convicted in a swift, pre-determined trial in the Palais de Justice, Paris, and condemned to death the following day.

1815

Napoleon I of France begins his exile on Saint Helena in the Atlantic Ocean.

1863

American Civil War: The H. L. Hunley, the first submarine to sink a ship, sinks during a test, killing its inventor, Horace L. Hunley.

1864

American Civil War: The Battle of Glasgow is fought, resulting in the surrender of Glasgow, Missouri and its Union garrison, to the Confederacy.

1878

The Edison Electric Light Company begins operation.

1888

The "From Hell" letter allegedly sent by Jack the Ripper is received by investigators.

1894

The Dreyfus affair: Alfred Dreyfus is arrested for spying.

1904

The Russian Baltic Fleet leaves Reval, Estonia for Port Arthur during the Russo-Japanese War.

1910

Airship America is launched from New Jersey in the first attempt to cross the Atlantic by a powered aircraft.

1917

World War I: At Vincennes outside Paris, Dutch dancer Mata Hari is executed by firing squad for spying for the German Empire.

1923

The German Rentenmark is introduced in Germany to counter hyperinflation in the Weimar Republic.

1928

The airship, Graf Zeppelin completes its first trans-Atlantic flight, landing at Lakehurst, New Jersey, United States.

1932

Tata Airlines (later to become Air India) makes its first flight.

1934

The Soviet Republic of China collapses when Chiang Kai-shek's National Revolutionary Army successfully encircles Ruijin, forcing the fleeing Communists to begin the Long March.

Did you know? It takes as little as 8 hours of one-on-one tutoring to improve a full letter grade, according to a nationwide poll of private tutors. Click here to search for a tutor today! More than 80,000 tutors in 300+ subjects. (Sponsored link; US only)