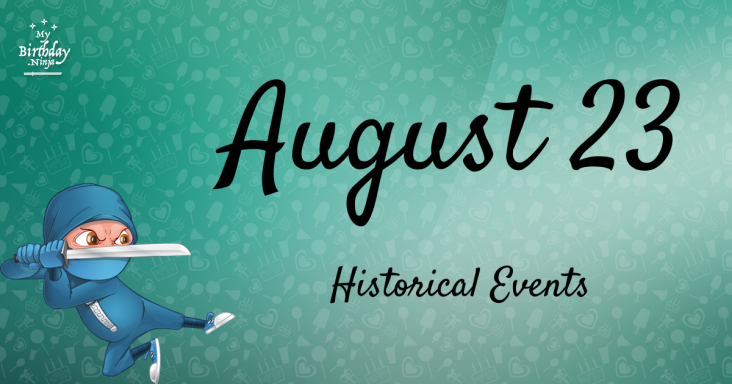 August 23 Historical Events
The following events took place on August 23. The list is arranged in chronological order.
Found 81 events. Showing 1 - 20.
After the successful invasion of Egypt, Octavian executes Marcus Antonius Antyllus, eldest son of Mark Antony, and Caesarion, the last king of the Ptolemaic dynasty of Egypt and only child of Julius Caesar and Cleopatra.

Ludi Volcanalici are held within the temple precinct of Vulcan, and used by Augustus to mark the treaty with Parthia and the return of the legionary standards that had been lost at the Battle of Carrhae in 53 BC.

79

Mount Vesuvius begins stirring, on the feast day of Vulcan, the Roman god of fire.

406

Gothic king Radagaisus is executed after he is defeated by Roman general Stilicho and 12,000 "barbarians" are incorporated into the Roman army or sold as slaves.

476

Odoacer, chieftain of the Germanic tribes (Herulic - Scirian foederati), is proclaimed rex Italiae ("King of Italy") by his troops.

634

Abu Bakr dies at Medina and is succeeded by Umar I who becomes the second caliph of the Rashidun Caliphate.

1244

Siege of Jerusalem: The city's citadel, the Tower of David, surrenders to Khwarezmian Empire.

1268

Battle of Tagliacozzo: The army of Charles of Anjou defeats the Ghibellines supporters of Conradin of Hohenstaufen marking the fall of the Hohenstaufen family from the Imperial and Sicilian thrones, and leading to the new chapter of Angevin domination in Southern Italy.

1305

Sir William Wallace is executed for high treason at Smithfield in London.

1328

Battle of Cassel: French troops stop an uprising of Flemish farmers.

1382

Siege of Moscow: The Golden Horde led by khan Tokhtamysh lays siege to the capital of the Grand Duchy of Moscow.

1514

The Battle of Chaldiran ends with a decisive victory for the Sultan Selim I, Ottoman Empire, over the Shah Ismail I, founder of the Safavid dynasty.

1521

Christian II of Denmark is deposed as king of Sweden and Gustav Vasa is elected regent.

1541

French explorer Jacques Cartier lands near Quebec City in his third voyage to Canada.

1572

French Wars of Religion Mob violence against Huguenots in Paris results in the St. Bartholomew's Day massacre.

1592

Japanese invasions of Korea: The Yeongwon Castle is besieged by the Japanese Fourth Division led by Itō Suketaka.

1595

Long Turkish War: Wallachian prince Michael the Brave confronts the Ottoman army in the Battle of Călugăreni and achieves a tactical victory.

1600

Battle of Gifu Castle: The eastern forces of Tokugawa Ieyasu defeat the western Japanese clans loyal to Toyotomi Hideyori, leading to the destruction of Gifu Castle and serving as a prelude to the Battle of Sekigahara.

1614

Fettmilch Uprising: Jews are expelled from Frankfurt, Holy Roman Empire, following the plundering of the Judengasse.

1614

The University of Groningen is established in the Dutch Republic.

Hey! How's your lovelife today? Get a free love reading with the most frank answers. Start to seize love opportunities in your life! Try it today and improve your lovelife. Did I mention it's F-R-E-E? (Sponsored link; 18+ only)