♓ Pisces Yearly Horoscope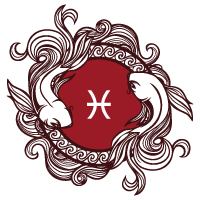 Year 2017 Overview – Moving into the New Year with Mars, planet of passion and the warrior planet of the cosmos in Pisces is a real bonus, ensuring that your passions are engaged from the get go, allowing you to move into the New Year feeling bold and fearless, ready to embrace the year from the get go. With Venus returning on the 3rd January, it won't be long before your heart is engaged as well, together making January one of the best of the year, especially when it comes to following your heart and embracing your passions.
It is the fact that they will both then turn their attention to making some money, that will make the financial tensions and pressure you may have moved into the year will make sense. While this is a big year for money matters as a whole and for financial growth, Venus and Mars are out to make sure that this is also an important time for income growth as well.
While money matters as a whole are favoured throughout the year and to a degree income matters are as well, the most potentially lucrative months run from the 28th January to the 6th June. However, this year won't just be about the money, though the fact that Saturn is spending this final year in your career sector will add weight to your income potential in the first half of the year.
You will not only find it easier to balance things professionally, with Saturn favouring a slow and steady approach to making this final year count, from early May you will find that working smarter is a must, with some work tension or job pressure if you continue to work around the clock. Yet by working smarter, you're likely to find that you not only last the distance, but you're more likely to profit as well.
While 2017 will eventually become an adventurous year, that won't fully develop until the final three months. It is lucky Jupiter's return to your sector of adventure, travel, learning and discovery on the 10th October that will kick off your most adventurous year in over a decade, a year that will stretch out to November 2017.
What you will find this year is that you're finally able to achieve a better work/life balance and a better balance between work and play. Things will feel a lot easier and in all this is going to be a good year for you. The main reason for that is the personal and/or relationship tensions of the last few years won't follow you through.
Yet in the process you've been left with a richer sense of what you want from your relationships and what they need from you. The early weeks of the year offer a chance to follow your heart and embrace your passions, with nothing seeming as urgent as it did in the closing weeks of 2016.

Did you know? It takes as little as 8 hours of one-on-one tutoring to improve a full letter grade, according to a nationwide poll of private tutors. Click here to search for a tutor today! More than 80,000 tutors in 300+ subjects. (Sponsored link; US only)
Love & Romance
As if to make up for the relationship challenges of the past few years and for last year's romantic drought Venus and Mars, the planets of love and passion are out to turn that around and they are hard at work, almost from the get go. Moving into 2017 with Mars and Neptune, the planets of dreams and passions aligned in Pisces, makes it clear that you're going to hold your own this year.
There is just enough momentum keeping your relationships on track and to keep things moving forward, but without being stuck with the challenges of previous years. Things take a romantic turn with Venus, planet of love's return to Pisces on the 3rd January, something that is suspiciously early. With the Sun not returning until the 19th February, this is the earliest Venus can physically arrive and is literally getting to you as soon as she can.
Yet once she arrives Venus won't be in a hurry to leave, returning on the 3rd January but not leaving until the 4th February, just over a month later. While that doesn't sound like a big deal, the fact that she returned so early and normally spends just 24 days fuelling your romantic desires and expectations and bringing the spirit of romance into play, this is a sign that she is being pulled back.
And pulled back she is, returning for a double dip visit from the 3rd April to the 29th April. Retrograding back in but not due to turn direct until the 15th April, this creates a 12 day period where the doors will be open to the past and second chances. It is in the early days of Venus' first visit that a Full Moon in your romantic sector on the 12th January will add the spark to Venus' romantic flame.
After Venus' departure from Pisces on the 29th April you won't have to wait long for the next romantic chapter. This will kick off with Mars' return to your romantic sector on the 4th June and will end with Venus' departure on the 26th August, with the first six and the final four weeks the best. While your relationships are enjoying the natural momentum created over recent years, that momentum will run its course in early May, after which you'll be more than ready to take the trainer wheels off.
Yet something special will start developing on the relationship front, a fresh chapter in its own right, from the 25th July. With a romantic chapter not running its course until the 26th August, the two will overlap. The same planets that make a romantic chapter so special will do the same on the relationship front, starting with Mercury's return to your relationship sector on the 26th August and ending with Mars' departure on the 22nd October.
Between them, Venus and Mars and will make September and October the best relationship months of 2017.

Hey! How's your lovelife today? Get a free love reading with the most frank answers. Start to seize love opportunities in your life! Try it today and improve your lovelife. Did I mention it's F-R-E-E? (Sponsored link; 18+ only)
Money & Finance
Despite the fact that there may have been some financial tension and pressure in the closing weeks of 2016 and this may spill into the early weeks of 2017, this is more likely to work to your advantage. What you experienced between Christmas and New Year 2016 was the first opposition between lucky Jupiter in your financial sector and Uranus, planet of surprise, synchronicity and the unexpected in your income sector in eight decades.
To take either one out of the equation and the financial tension will evaporate, for there would be nothing to create pressure, yet if you did you would take out all of the advantage this brings. For the first time in 12 years you are moving into the New Year with lucky Jupiter in your financial sector and not due to leave until October, 2017 is destined to be a big and expansive year for money matters, so you don't want to take him out of the equation.
At the same time, there would be no financial tension if you didn't have Uranus in your income sector and if that was the case and then money matters would be free to run roughshod over them, pushing them right to the curve. So while you won't like the financial tension at the start of the year you will like the benefits, especially as this is likely to drop off fairly quickly.
Jupiter will spend from the 6th February to the 9th June in retrograde motion and that's when money matters will take a back seat, allowing you to move into review mode. It is pure coincidence or maybe not, that this is exactly when income opportunities move into overdrive. It begins with Mars' return to your income sector on the 28th January, but everything changes with Venus' return on the 3rd February, just three days before Jupiter's retrograde turn.
Normally moving through in just 24 days, these will always be the most lucrative weeks of any year, except this year Venus will stay considerably longer. Venus will move through your income sector from the 3rd February to the 3rd April and will then return for a double dip visit from the 28th April to the 6th June.
Returning just three days before Jupiter turns retrograde on the 6th February and leaving just three days before he turns direct on the 9th June, a financial review period and some of the most lucrative months in a decade overlap. Income forces will pull back, relying on the momentum gained in the first half of the year and financial matters will come back into play, remaining in play for the rest of the year.
So while the year begins with income and financial forces in opposition, both wanting your attention at the same time, they seem to have worked something out in the process, with income matters taking the first of the year and money matters as a whole, the second half. Either way, this is a big year for both.

Create unlimited collages for every occasion, big or small. Share online with animation and music, or print as heartfelt decor, keepsake cards, or frame-worthy gifts. Turn photos into art with Smilebox. It's FREE - download now! (Sponsored link)
Work & Career
Chances are you will move into the year feeling confident or at least you think you do? You see, the problem, if it can be called that, is that there was a lot of pressure in the final weeks of 2016 and while Saturn, in your career sector since December 2014 was involved, he was there as support for income forces.
At the same time, there is likely to be a sense that there is unfinished business. The Sun left your career sector just before Christmas, as is the case at this time every year and while Venus, Mercury and Mars had all moved on by then and Saturn, who is not due to leave until the 20th December has since taken the wheel, this is unlikely to feel settled.
It's that sense you have when you go on holiday and you wonder if you've unplugged the iron or you've left something on and so you turn around and go back and check. Chances are all is as it should be, but there is that nagging voice that says, go back and check. That is exactly and I mean exactly what the professional gods are doing in the early days of the year and that's what you're picking up on.
Mercury left your career sector on the 3rd December 2016, so he hasn't just gone, he's long gone, yet on the 5th January he will return for a double dip visit. It won't be a long visit, just eight days long and he'll leave again on the 13th January, but he'll come all the way back, just to check that nothing has been left undone.
Returning over a month after leaving this will be a rare opportunity to double check nothing has been over looked and considering that once Saturn leaves on the 20th December he won't be back for another three decades, you can see why. In retrograde motion until the 8th January, Mercury's first three days back will be an invaluable opportunity to look back and retrace your steps and then until leaving on the 13th January will help you work on your game plan.
You don't need to even be aware of this at the time, for this is what you will naturally be drawn to. After that rethink and with no more planets in your career sector until Mercury returns on the 5th November to help bring Saturn's three year journey home, you can then get back on your journey, confident that you've gone back and checked and nothing has been forgotten.
From the 13th January onwards, this makes career and professional matters as a whole all about the journey, with support flooding in over the final two months of the year to both bring this professional year home and put your whole professional game on the path it will continue on for years, if not decades to come.
On a more mundane level there will be a chance to look at work matters in the middle months of the year. By normal standards this will bring some real opportunities, with Mars making his first visit in two years and a pair of eclipses bringing unexpected developments. However, Saturn's final year in your career sector is a once in a professional lifetime experience.
This makes it important to have your work hat on where you can. Things will start to move on the work front with Mercury's return on the 6th July and will continue to unfold until Venus' departure on the 20th September. However, the fact that you will have two eclipses in your work sector this year, suggests that something fateful is developing behind the scenes.
The first is a lunar eclipse on the 11th February, but if you just suspect it may have a hand in developments that come to a head on the work front as well, you will know for sure when a total solar eclipse on the 21st August opens the door to major new beginnings. This is almost four months to the day before Saturn is due to leave your career sector, not due to return for another three decades, so this could trigger something game changing across both fronts.

Curious about this Brown Bubble Ball? This is a party item you can activate and send to your friends when you play the free game Jump Birthday Party. It's a fun and easy-to-play mobile game for all ages. Get free 1,000 gold coins when you download today!
Famous Pisces Personalities
Do you know anyone on this list? Click on the birth date to know more about that special day including life path number, the #1 song, and many more.

Did you know? It takes as little as 8 hours of one-on-one tutoring to improve a full letter grade, according to a nationwide poll of private tutors. Click here to search for a tutor today! More than 80,000 tutors in 300+ subjects. (Sponsored link; US only)
Are you a proud Pisces? Share this personality trait to your friends and ask them if this is true or not. Some will react in a positive way while others in a negative manner. Agree to disagree or click here to generate a new random zodiac fun fact about Pisces.
More Birthday Fun Facts
Are you hungry for more irresistible birthday facts about your special day? Simply enter the month, day, and year of any date you are interested in the form above this page. Don't forget to download your free ninja gift. Feel free to surprise your Facebook friends with how much you know about their birthday. Here's a date that someone just searched for recently – June 24, 1955.
More Horoscopes
TIP: Bookmark for easy access. Content updates yearly.